Gonzalo Barbieri is an experienced Marketing and Research executive, who holds an MBA from the University of Liverpool and is currently Marketing Professor at the Universidad Católica Argentina. Apart from multiple Business Unit Director and Project Manager roles conducted during his professional career, Gonzalo created and led for three years the Advertising Research department in Google for the Spanish Latin America region, understanding Digital Media and its role in the media mix efficiency, particularly for building brands. Before joining Google, Gonzalo worked 8 years at Procter & Gamble Latin America, where he established a set of models that enabled measuring Marketing Trade activities and their Return Over Investment. He was also in charge of Market Research for all the different P&G product categories in Argentina, leading multiple projects related to Brands, Shopper and Consumer Marketing.
- Market and Media Research
- Consumer and Shopper behaviour
- Marketing Mix and Return Over Investment
- Building Brand Equity

- Corporate restructuring
- Profit enhancement
- Private equity cycles
- Executive and Non Executive leadership
Alfredo Malva who is fluent in five languages, has a strong management experience on corporate development, complexity management, pricing, turnaround, restructuring and profit improvement as well as a broad, international, cultural, and business exposure having worked and lived in several places in Europe, America and Asia. He has an exemplary track record with International industrial companies with 20-years of hands-on definition, implementation and delivery of profit improvements within the industrial sector, including automotive, railways, aerospace, naval, electrical, pulp & paper and FMCG. He has acted as Executive, Board member and advisor on behalf of financial institutions, Corporate Boards and CEOs. He has overtime successfully participated on different areas of the private equity cycle (due diligence, acquisition, improvement, exit strategies). Alfredo has recently successfully completed a full investment cycle alongside Private Equity and has been active on several Boards in Spain, China and USA. He is currently managing two distressed situations in Spain. He studied Economics at the Universidad Autónoma (Madrid) attaining his MBA from ESCP Europe (Oxford, Madrid and Paris) and is currently pursuing further Executive education at Columbia Graduate School of Business (New York).
- Corporate transformation
- ERP implementation
- Integrated Business Leadership
- Sales and Operational Planning
Richard was part of a team in ICI Agrochemicals (now Syngenta) which implemented MRP II and achieved Class A across the world. The team improved customer service to > 98% and reduced inventory by 27%. They implemented the first Global Sales and Operations Planning process. Syngenta still operates the same process today. Since 1991 Richard has worked with Mike Salmon's MRP Ltd and then Oliver Wight, providing external courses and internal workshops in best in class planning, performance measurement, and ERP implementation. He has worked with many companies, in diverse industries from engineering, through chemicals to Fast Moving Consumer Goods, and from very large to very small. He is passionate about helping people to get away from the frustration of firefighting to a more ordered world of integrated business systems, processes and above all people. This results in a far more competitive and profitable organisation. He has worked with boards of companies, down to the shop floor, helping them develop Business Excellence. The approach is practical and the education direct and easily understood. He educates in Integrated Business Leadership, Sales Forecasting, Supply Chain Management, Performance Measurement, Data Accuracy and ERP Implementation, all key parts of the Integrated Business Leadership model. He has an MBA from London Business School, where he specialised in Operations, Marketing and Finance, a BA and MA degree in Philosophy Politics and Economics from Oxford. He speaks French, and basic Russian.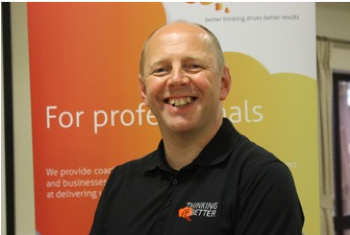 - Keynote Speaker

&

Motivational Coach
- Transformation Workshop Programmes
- Behavioral Development Courses
- Project Leadership
Ian is a passionate and highly engaging speaker - his background is working in industrial and project environments for over 25 years, holding a range of senior roles including Head of Project and Programme Management for Rolls-Royce Civil Aerospace; working to set up and develop the project management capability of a German owned SME; modifying and subsequently managing operations facilities in low volume specialist vehicle production; Operations Management for a manufacturer of capital CNC equipment, supporting various industry sectors including aerospace. Ian has also served 10 years as a Special Police Constable and in that time received Chief Constables Commendations for contributions to training. Over time Ian has developed a passion for helping others improve by looking at and understanding how we react to our circumstances. Ian works with people and teams to 'think things better'. Ian focuses on 'practical application' of knowledge and helps individuals and teams develop their own strategies for success by helping them understand how they can develop the right 'thinking'and 'habits'. He delivers Keynotes and Behavioral Workshops for Project Leaders in the MSc in Project Management at the University of Manchester, and University of Warwick, and has worked with Aerospace, Automotive, and industrial Clients to develop blended, technical, and behavioural development courses. Also working with Derbyshire Sports Partnership to coach Project Leaders in delivering Government Funded Projects. Also in the sporting field, working with UK Athletics running campaigns in Derbyshire; and with Motor Racing clients as a mindset coach. Continues to deliver Integrated Project Team Leader training for Rolls-Royce Aerospace, and has designed and delivered a range of bespoke interventions for clients including 'Go-Look-See Awareness', 'Communications Workshops', 'Leading Projects Workshops' to 'Project Leadership for Infrastructure Projects', and 'Business Transformation Workshop Programmes'.
- Communications Strategist
- Journalism and Communication Mediums
- Consultancy in Community and Education Campaigns
- Local and Regional Government
Sue Coffey is a highly experienced communications' strategist with an in-depth understanding of the business world, local, and regional government. Edited two of the UK's first entrepreneurial free newspapers. Implemented significant charity marketing campaigns in Moscow and change management across multiple teams. Successfully developed own ethical consultancy servicing commercial and public sector organisations. Sue benefits from a full breadth of experience in devising and managing community and education campaigns in diverse communities.
Sue spearheaded while providing strong leadership for the following key projects;
Launching and communicating a consultation survey for a UK Local Economic Partnership which ensured all user groups were consulted and their views considered in a strategy set to create £500million investment.
Led on launching and communicating an employer and job seeker survey to assess the perceived and actual needs of both communities and to present this material for policy shaping in a Local Enterprise Partnership.
Providing a community engagement and activities theme, attracting a mixed attendance of 35,000 young people and their families from ethnic communities.
Created and drove an 18-month marketing strategy for a new Academy which saw it open fully enrolled and with a waiting list from the surrounding, disadvantaged, white, and Asian communities.
Created and implemented a five-year marketing campaign for an independent school which saw numbers of pupils grow from 380 to the mid 600s at a time of significant organisational change.
Sue's international experience includes the implementation of major charity marketing campaigns in Moscow and change management across multiple teams. Sue holds a BA English Hons from the University of London and a Diploma in Professional Studies in Education Marketing.